About 75 percent of people know that you can use stats to skew perspectives. The reality is that they rarely tell the whole story, but I also find that they almost always tell part of the story.
Let's attempt to complete the story by tossing out a few of the key stats regarding the Philadelphia Eagles two weeks into the season.
5.8
Technically, the Eagles have the NFL's top-ranked offense. They're averaging 471 yards per game, which is easily tops in the league. But look even a little bit deeper and you realize that's a distortion.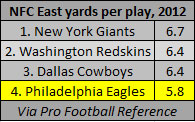 The true numbers that matter here are points per game (where the Eagles rank 26th with 20.5) and yards per play (they rank 11th with 5.8). That latter number is the one I'm using here because it proves that the 471 yards per game stat is useless. Philadelphia has run more offensive plays than any other team in football, which inflates that average.
It strikes me as odd that they've run so many plays despite a minus-three turnover ratio and a good-but-not-great third-down conversion rate of 44 percent. Regardless, that's where they're at. And on a per-play and point basis, this offense has taken a step back early on in 2012.
22.0
That's Philadelphia's pass coverage rating, courtesy of Pro Football Focus, which is the best in the NFL by a huge margin. In fact, that number is 100 percent higher than all but two other teams.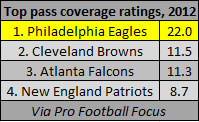 The pass rush has been very effective, but they only have four sacks. As a result, the Eagles' secondary is getting a lot of balls thrown its way from quarterbacks under pressure. That phenomenon has definitely helped, but the coverage itself from Dominique Rodgers-Cromartie, Nnamdi Asomugha, Brandon Boykin and even safeties Nate Allen and Kurt Coleman has been well above par.
DRC and Boykin are both ranked in the PFF top 10 in terms of coverage thus far, while Asomugha is still 17th despite struggling a bit in Week 2. That trio has given up only eight completions on 28 attempts.
Last year, the Eagles ranked 15th in football with a PFF coverage rating of 2.9.
-1.36
Which defensive newcomer will make the biggest impact this year?
Which defensive newcomer will make the biggest impact this year?
DeMeco Ryans

Mychal Kendricks

Brandon Boykin

Fletcher Cox
Courtesy of Advanced NFL Stats, that's Philadelphia defensive win probability added rating, which is the best in football. This essentially measures a defense's ability to make plays when it matters most, weighing each play in terms of significance. The lower the number, the better, and the next number on the list is -0.92.
Last year in Philly, this number was +1.48, which ranked in the middle of the pack. 
The Eagles are on pace to register only 32 sacks this year, which would be a drop off of 36 percent from 2011, and yet the defense is clearly performing much better early on. It's a testament to how good DeMeco Ryans and Mychal Kendricks have been.
26
That's how many times the offensive line has surrendered pressure on 100 passing plays this season, according to PFF. That gives them a pass-blocking efficiency rating of 80.5, which actually ranks slightly above average. 
Additionally, Michael Vick has only been sacked four times, yet none of those sacks have been credited to the offensive line. Philadelphia's is one of only four lines in football that has yet to give up a sack, per PFF.
So maybe it's not time to panic.